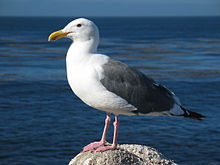 "
Evolution happens gradually as the eco-system changes. This doesn't just happen overnight.
"

—Astrid in Gone
Seagulls in the Gone Series are mutated versions of seagulls that have mutated, growing talons.
During Sam, Astrid, Quinn, and Edilio's search for Little Pete in the beginning of Gone, Astrid discovers a dead seagull on the pavement. After further observation she notes that the seagull has undergone some type of mutation, as it appeared to have grown talons, a trait commonly found in birds of prey. Seagulls are the first animals in the novels that appear to have mutated in the FAYZ.